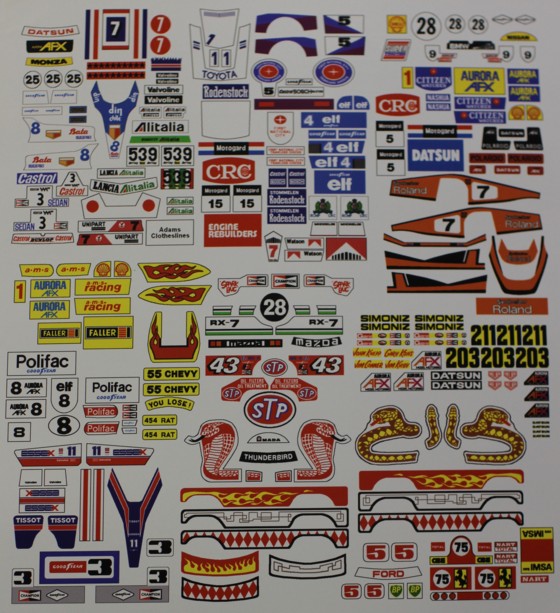 ,
Real Hard To Find Cars Sticker Sheet.
This sheet includes the stickers for over 30 of the real hard fo find AFX & TOMY cars as follows.
The blue Datsun 240Z,
the Capri Alitalia,
the chrome Super Traction '55 Chevy,
the Bata Din F1,
the red Tomy Nissan March,
the white Tomy Nissan Amada,
the white Lancia Stratos, (White paper version),
the white BMW 320i Turbo,
the red BMW 320i,
the Valvoline BMW M1,
the Toyota Celica,
the blue TOMY Thunderbird Stock Car,
the Citizens Watch,
the Castrol Escort Rallye,
the First National Bank elf,
the Mail Away Petty Charger,
the black Monza,
the New Zeland Ford Escort,
the white Dome Zero,
the Team Faller,
the Polifac,
the yellow '55 Chevy Rat,
the RCMP,
the Polaroid Datsun Baja Pickup & 240Z,
the Simoniz Datsun Baja #203 & #211 Pickup Trucks,
the Spark Bug,
the Super Traction,
the Mazda RX7,
the white sticker version of the Essex Lotus F1,
the Venomous Vans,
the red, white & blue #3 Shadow,
the Ferrari 365,
the rare red Japanese Release Indy Special,
the rare Ford, (Matador), Stocker,
and the Watson F1.
---
---
Please send comments or suggestions to,
Wayne Lawton