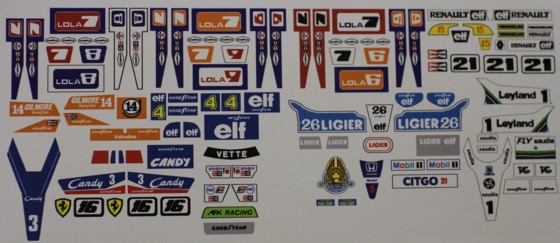 ,
Harder To Find Cars Sticker Sheet.
This sheet includes the stickers for over 25 of the harder to find AFX cars as follows.
the chrome Fall Guy GMC Truck,
the Super Traction Nomads,
the Candy Tyrell F1,
the six wheeled elf,
the AJ Foyt Indy Special,
the Ligier F1,
the Renault F1,
the Demon Beamer,
the Blazin' Brakes Monza,
the Ferarri Daytona,
the Saudia Williams F1,
the A Production Corvette,
the Citgo Thunderbird Stocker,
the Mercury Stocker, (Ultra 5),
the Matador Stocker, (Ultra 5)
and six different versions of the Lola T330.
---
---
Please send comments or suggestions to,
Wayne Lawton